DING REPAIR
All Ding Repairs are done in house in our back shop with professional quality and quicker turn around time, at a fair price. Average turn around times are 1-2 weeks, some sooner, some longer if it is a full project board. Everything from a basic rail cracks to full buckles, epoxy, PU, Carbon, we have you covered! 
ESTIMATED QUOTES:
Base Price Repair: Small crack, puncture, simple dings $45-$55
Gashes, holes, cracks etc. that need to be filled $65-$85
Fin Box Repair $85-$95
Glass Tear / Delamination $75-$125 vary depending on size
Leash Plug $50
Color Match add $20 to standard repair cost
Gloss Polish add $20 -$30 depending on size of repair
Buckles $65-$95 depending on size
Broken Boards $125-$150
Quotes are not final. Payment for repairs is upon pick up.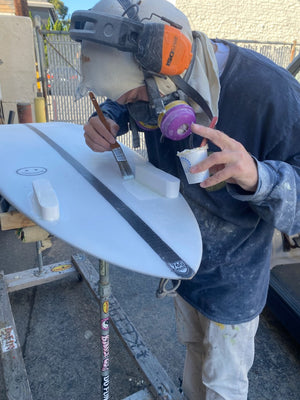 Fin Box Repairs
Best box repairs you will find! No voids or weak filler. True foam replacement, re-routed, and set just like new!