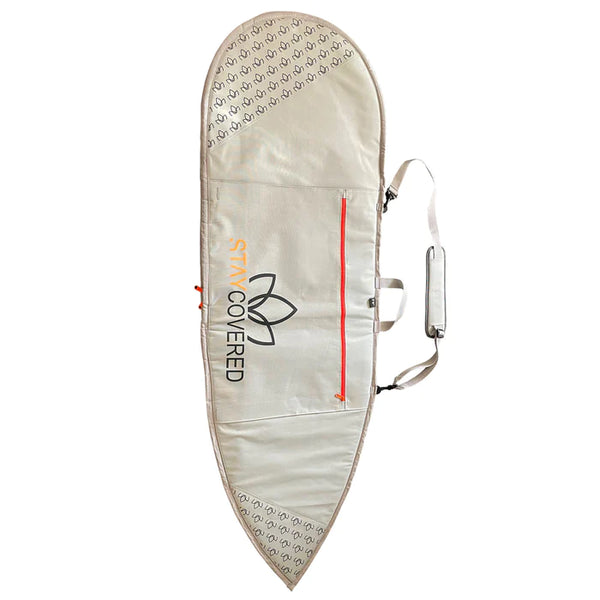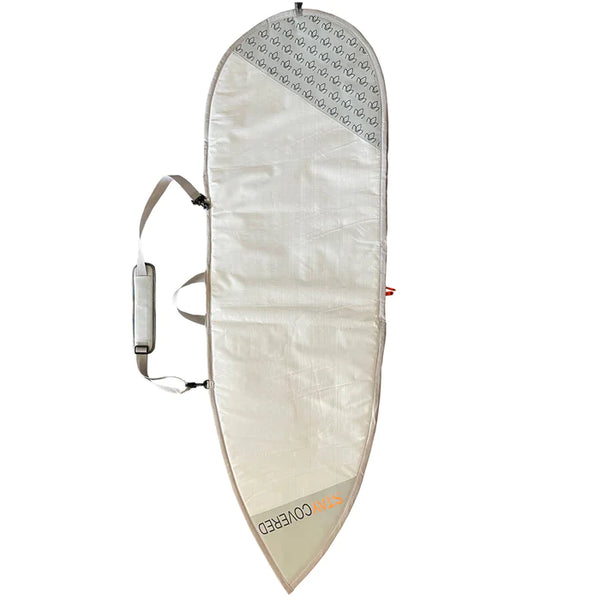 STAY COVERED SHORT BOARD BAG
Heavy Duty Day Use Surfboard Bag
Fit:
Length - Our bags are made to fit the same size board.  When picking the length choose a bag of the same size or one size larger.  For example, a 6'4" will requite a 6'6" bag.
Width: Our fish bag is 24" wide.  Add the width and thickness of your board.  If it is 24" or less it will fit this bag. 
Construction: Our Heavy Duty Board Bags are constructed with a 1/4" closed cell packing foam that is sandwiched between two layers of material.  On the top is a 600d Cordura that is able to withstand the harshest of conditions.  On the bottom is a heat resistant, UV coated heavyweight tarpoline, with 600d cordura nose and tail patches. On the inside is a waterproof tarpoline lining with a padded rail guard for protection from the zipper. 
Features: One of the better features is our extra large storage pocket that can fit anything from your towel and wetsuit to your bar of wax and booties.  Our pocket features an secure zipper closure, pleated sides for added space and breathable button holes for ventilation.
Transparency: In todays economy, textiles is one of the most competitive manufacturing industries.  Our line of Heavy Duty Day Bags are designed to compete in both quality and price with industry leaders.  Therefor we made the decision to outsource these bags overseas.  The first thought that comes to mind with overseas in China.  But, our bags are not made in China.  We have teamed up with a very reputable company with an office in California and a factory in the Philippines.  With over 10 year of business relations we have grown fond of the Philippines, its people and its surf.  Rest assured that you will be receiving the highest quality board bag.
Made in Cali Warranty:  If at any time you believe that your bag has not lived up to the quality you expected, call 760-721-6599 or e-mail sales@staycovered.com us.  At our warehouse in Oceanside, we are able to fix and repair board bags on the spot.  We believe in keeping products in the market as long as possible.  If we can fix it, we will!  If it is beyond repair, we'll tell you.