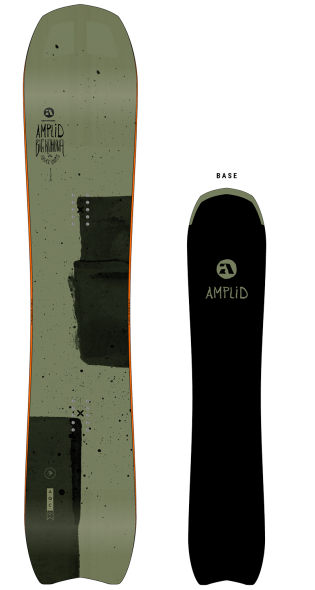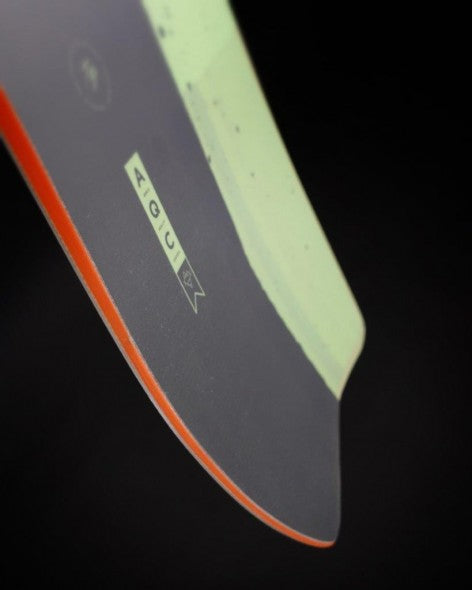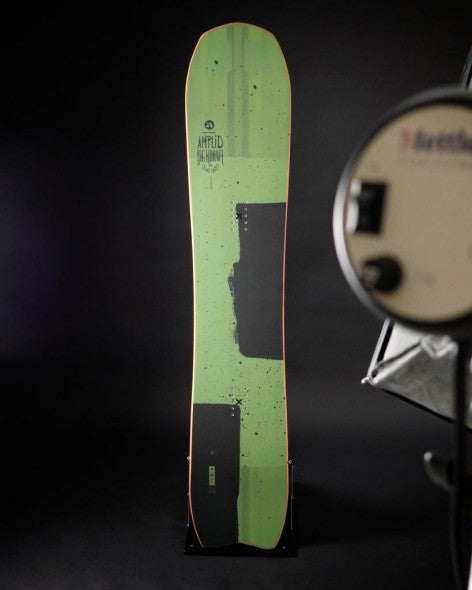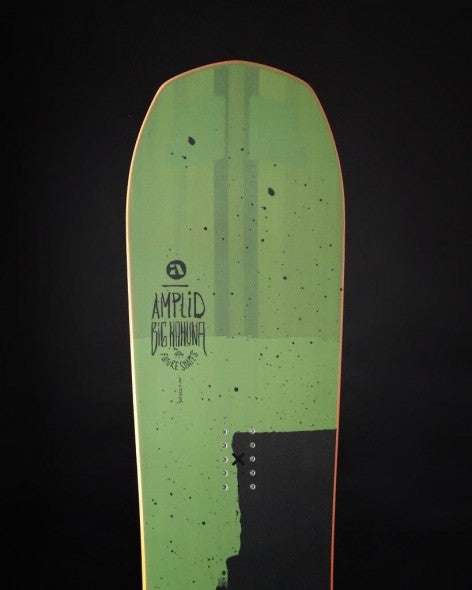 Big Feet, Big Fun.

From raiser plates to posi-posi stances – tons of different remedies have been invented to avoid the almost lethal effects of unnerving toe and heel drag. We finally found the only universal antidote: Width!
The pumped up waist with 27.6 cm width will bring boot drag finally to an end. It's as simple as that. The Big Kahuna's tapered shape, its soft elliptic nose scoop and the accentuated sparrow tail transform this deck into a powder float machine. The smooth sidecut provides perfect grip on groomed piste and carves trustworthy a big range of arc sizes. Last but not least: Its tailkick lets you shred switch with a peaceful mind.
SHAPE |
TAPERED DIRECTIONAL
LOW CAMBER W/ EARLY RISE
A half-fat camber for all-mountain dominance. Its toned-down dimensions deliver a precise and lively feel much like Pop Camber, but with much improved deep snow performance and a more "broken-in" feel out of the shrink-wrap. In Amplid's directional snowboards a touch of early rise is added to Cruise Camber to improve buoyancy even further.
SPECS
| | 161 |
| --- | --- |
| overall length (mm) | 1610 |
| nose length (mm) | 260 |
| running length (mm) | 1190 |
| tail length (mm) | 160 |
| waist width (mm) | 276 |
| underfoot width front (mm) | 290 |
| underfoot width back (mm) | 286 |
| nose width (mm) | 318 |
| tail width (mm) | 312 |
| sidecut depth (mm) | 19.0 |
| sidecut radius (m) | 8.9 |
| stance position | 10 back |
| nose radius (mm) | 800 |
| tail radius (mm) | 800 |
| ref stance (cm) | 57 (53 - 61) |
| camber | Directional Cruise Camber |
| approx weight (kg) | 3.4 |
| rider weight-range (kg) | 75 - 105 |
| active surface area (cm2) | 4444 |
---