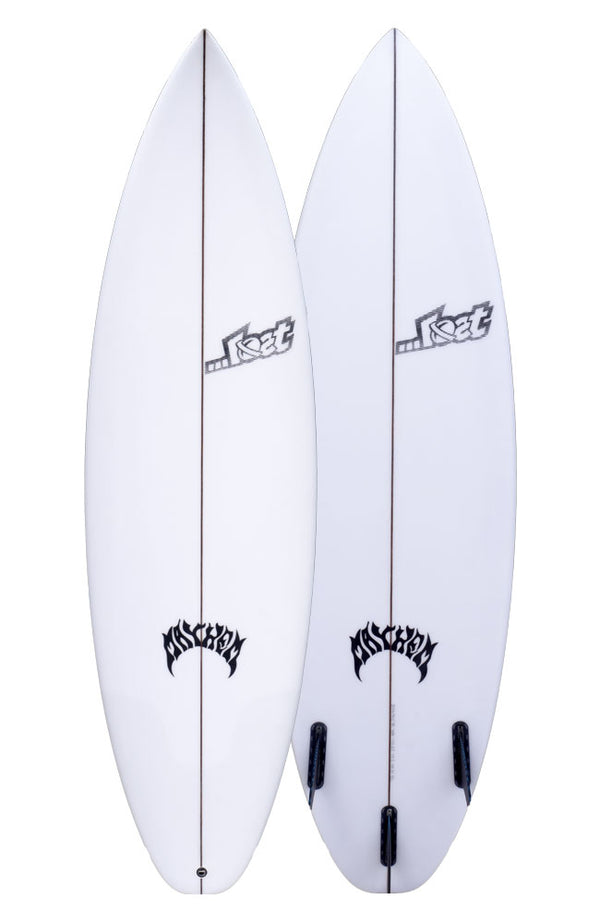 DRIVER 3.0 SQUASH LIGHTSPEED
The DRIVER3.0 is the culmination of the last three years of subtle, consistent fine tuning of the Driver2.0, with our elite level team riders. Since the launch of the Driver2.0, in 2019, our team has consistently pushed us to continue evolving, always strive to have an edge, competing against the worlds best surfers. We are motivated by making strides to come out on top. It represents the methodical advancements and evolution of the Driver2.0,  the point where it is no longer even the same model.  Publicly leaked and unveiled (as a squash tail) in the 2022 StabInTheDark, with Jack Robinson, where we just missed a win, ending with a very close runner up. Further refinement and adaptation from the SITD board, though 2022, cemented this design as some thing special. Virtually every top tier surfer we work with was claiming this version as the best board in their quiver. Highlighted by Griffin Colapinto and his two WCT victories of the season, in Portugal and El Salvador. The DRIVER3.0 Rnd is essentially replicated directly from Griffins magic board, during that El Salvador event.  The response and accolades from every gifted surfer in our team (from vets like Kolohe Andino, Yago Dora and Ian Crane to young guns like Eli Hanniman, Crosby Cola and Cole Housmand) has been so resoundingly positive, that we felt it was time to go public and offer this design officially, for late 2022 and beyond.
Simply stated, the DRIVER3.0 features slightly more tail rocker and a deeper double to single concave, through the rear half, than its predecessor, the Driver2.0.  The deck line in the tail is scooped out, with lower, boxy rails, to follow the bottom curve and slice seamlessly into the water. More concave means more lift and more rail line rocker. More lift means more speed. More rail rocker, means more curve, for searing, tight radius turns.  We narrowed the hip, between the feet, adding grip and stability to the outline. The round tail is fairly wide and forgiving under the rear foot, but the last few inches pull in enough to add confidence and hold in hard pushing, Pro level, pocket surfing.
To balance these design elements (added tail rocker, narrower hip, scooped out deck and hyper rail rocker) we have carried a bit more width in the forward outline and volume in the forward foil. This forward volume adds glide and a more responsive drive, off the front foot.  The DRIVER3.0 runs thicker, along the stringer line (for paddle power and drive) but has a higher angle "Vee" deck, which removes volume and ends in a moderate, but round and forgiving, rail.
Overall, the dims and volumes are noticeably a bit more generous. Like everything else in this boards design evolution, it is a reaction to (and response from) our top tier athletes requests. Griffin is riding 5'11 x 28.50 liters. Yago 5'11 and 6'0 x 29.50 liters. Kolohe and Crosby are somewhere in between, riding similar lengths, but at 29.00 liters of volume.
The DRIVER3.0 Rnd is the status quo of high level, Pro-formance surfing, today. Developed with direction, testing and feedback from the many of the best surfers in the USA and around the world, it has been proven on the worlds biggest stage, yet is designed with enough foam and built in speed to be a viable tool in any adepts surfers quiver.
DRIVER3.0…The Ultimate Driver machine.
LightSpeed is our proprietary surfboard construction built with lightweight EPS foam and high strength epoxy resin.  LightSpeed uses a combination of Rapid-Reflex Carbon Fiber as well vibration dampening Innegra-Fibers, woven into the finest custom performance fiberglass cloth. 
Like the name implies, LightSpeed is both light and exceptionally fast, allowing you to take your surfing to new levels of speed and Pro-formance.  Developed in-house, our crew of board builders worked closely with our top Jr and WQS team riders to create the best possible technology for High Pro-formance small wave and every day surfing. After well over a year of testing various versions, and R&D with some of the world's best young surfers, we are now making this exciting custom surfboard construction available to all. 
LIGHT SPEED Custom Composite features:
Ultra-Light / Ultra-Lively Foam Core: Steam molded, High Strength-to-Weight Ratio, fused cell, water resistant, stringer-less EPS foam core.
High-Strength, Flexible, Impact Resistant, Epoxy Resin System. Woven Carbon Fiber Centerline "Stringer" (top and bottom): Engineered to add both strength and Rapid-Reflex "pop", with just enough release to feel forgiving underfoot. The Carbon loads up under foot pressure, and springs upon release.
Fused Carbon, Tail Reinforcement Patches: Transfers more direct input into rail and adds strength.
Centerline Aligned Carbon "Exo-Stringers": Enable natural Torsional Twist, similar to a wood stringer board, but lighter, and with a much faster reflex reaction and more "pop".
Innegra Infused, Engineered Composite Fiberglass: A multi weave (6oz lengthwise, woven with 4oz, rail to rail) fiberglass, top and bottom, adds significant break strength, while keeping the boards Ultra-light and Ultra-lively.
5oz Warp-Weave Fiberglass: A multi weave (6oz lengthwise, woven with 4oz, rail to rail) fiberglass, top and bottom, adds significant break strength, while keeping the boards
Ultra-light and Ultra-lively.
LightSpeed – Light and exceptionally fast technology, allowing you to take your small wave and everyday surfing to new levels of speed and Pro-formance.
PRO DIMS
| | | | |
| --- | --- | --- | --- |
| 5'0 | 17.00 | 2.13 | 19.00 |
| 5'1 | 17.25 | 2.13 | 19.50 |
| 5'2 | 17.38 | 2.15 | 20.25 |
| 5'3 | 17.50 | 2.18 | 21.00 |
| 5'4 | 17.75 | 2.20 | 21.75 |
| 5'5 | 18.00 | 2.22 | 22.50 |
| 5'6 | 18.18 | 2.25 | 23.50 |
| 5'7 | 18.38 | 2.28 | 24.50 |
| 5'8 | 18.50 | 2.32 | 25.50 |
| 5'9 | 18.63 | 2.37 | 26.50 |
| 5'10 | 18.75 | 2.40 | 27.50 |
| 5'11 | 18.88 | 2.44 | 28.50 |
| 6'0 | 19.13 | 2.45 | 29.50 |
| 6'1 | 19.38 | 2.50 | 31.00 |
| 6'2 | 19.50 | 2.53 | 32.00 |
| 6'3 | 19.63 | 2.57 | 33.00 |
| 6'4 | 19.88 | 2.60 | 34.50 |
| 6'5 | 20.00 | 2.63 | 35.50 |
| 6'6 | 20.25 | 2.66 | 36.75 |
BRO DIMS
| | | | |
| --- | --- | --- | --- |
| 5'4 | 18.00 | 2.25 | 22.75 |
| 5'5 | 18.25 | 2.27 | 23.75 |
| 5'6 | 18.50 | 2.30 | 25.00 |
| 5'7 | 18.63 | 2.34 | 25.75 |
| 5'8 | 18.75 | 2.38 | 26.75 |
| 5'9 | 18.88 | 2.42 | 27.75 |
| 5'10 | 19.00 | 2.45 | 28.75 |
| 5'11 | 19.25 | 2.50 | 30.00 |
| 6'0 | 19.44 | 2.53 | 31.00 |
| 6'1 | 19.63 | 2.60 | 32.50 |
| 6'2 | 19.88 | 2.64 | 34.00 |
| 6'3 | 20.00 | 2.66 | 35.00 |