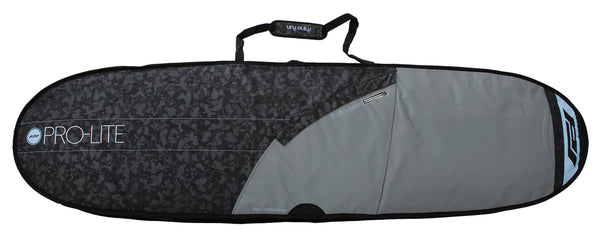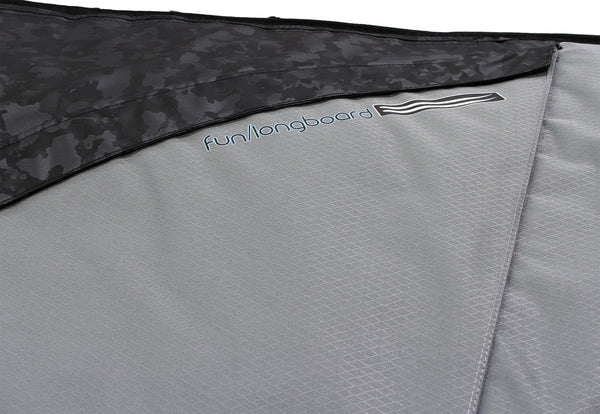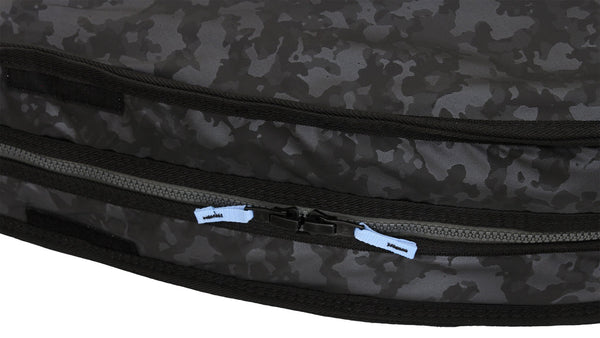 PRO-LITE RHINO SURFBOARD TRAVEL BAG - LONGBOARD (1-2 BOARDS)
Weighing in at much less than a wheeled bag but packing in the same body foam and material the longboard Rhino surfboard travel bag is perfect to have in your corner as you step into the ring with  the airline check in attendant. This bag has 10mm foam protection designed for airline travel. Large exterior pockets with drainage will keep the crust off your boardshorts and the smile on your face. A sewn in divider provides the perfect separation to keep wax from switching boards. Need a place for your stash?  Throw it in the secret pull out "storage" pocket. Don't worry about salted zips on this bag; heavy duty molded non-corrosive zippers will keep the movement smooth for the life of the bag.
Up to size 9'6" this bag will fit 1-2 longboards around 24" inches wide by 3" and 1/4 inches thick. Slightly wider boards will fit if they have more tapered rails and less overall volume or you are only taking one board. Size 10'0 and 10'6 will fit slightly wider and thicker boards but the bags are only designed for one board. View those bags here.
Specifications

Designed for the surfer traveling with one to two boards.

This bag is also available in size 10'0 and 10'6 for a SINGLE board only

Collapsible gusset with Velcro closure.

Bag depth is 3" at nose and 7" at tail.

600 Denier Poly and 10mm foam.

Molded non-corrosive zippers.

Custom Pro-Lite print panels.

Large exterior wetsuit/accessory pocket.

Top zip flip top opening for ease in sliding your board in and out of the bag.

Strap pocket to stow strap and accessories during travel.

Padded deluxe shoulder strap.

Molded rubber handle for extra durability.

Inner storage pocket.

Reinforced nose.

External wax/key pocket

Fixed size hang tag.

Rail guard around the zipper to protect your board.

Vent to allow air flow to keep your board cool.

Short board styles, 24" width.

Long board bags up to 9'6, 27" width.

This bag is cut close to 3" long to accommodate boards of equal size.

Empty bag weight 11-14lbs depending on size.