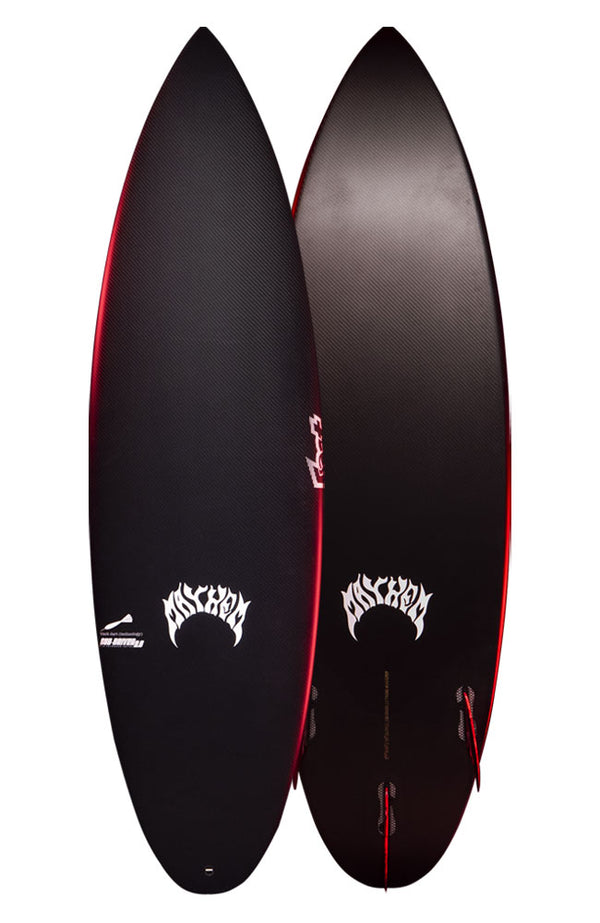 SUB DRIVER 2.0 THUMB (DOUBLE DART)
DESCRIPTION
BlackDart surfboard construction is a trademarked surfboard manufacturing technology, developed by Florida based epoxy composite guru, Drew Bagget.
In 2014, …Lost Surfboards worked with Drew to fine tune and license the technology. BlackDart was one of the first custom built, full deck, carbon fiber board technologies to be ridden by competitive surfers and be widely distributed around the world. Although made famous by our TESLA Motor Company x …Lost Surfboards collaboration, BlackDart was perhaps a bit too forward in the market, released before the people were ready for mass appeal. We've been building custom BlackDart boards, for a small, but devout following, since.
Over the past few years, full carbon surfboards have been popularized and proven effective by other manufactures and elite level surfers, bringing the concept more awareness and acceptance.
Now, after a couple years of development, we are offering a limited run of our SubDriver2.0-Thumb, in all new, "DoubleDart" construction. As the name implies, DoubleDart uses the same exclusive, Carbon/S-glass hybrid "BlackDart" fabric, but the difference is, with DoubleDart, the board is now fully wrapped, top and bottom, in a Carbon fiber shell.
To keep DoubleDart boards flexible and forgiving and not becoming too rigid or "stiff" feeling, we've shortened the rail laps, both top and bottom. Only the cover layer of 4oz fiberglass fully wraps and laps and rails. This subtle nuance helps DoubleDart boards to bend and torsionally twist, more freely.
To properly launch the new DoubleDart construction, we wanted to pair it with something special. We chose our yet to be released SubDriver2.0-Thumb. This is the board that Griffin Cola has been using for his smaller wave contest antics the last couple years. First, in back-to-back, top 5 finishes at the Surf Ranch Pro, then onto his 2021 US Open victory and it is the same model he chose for his final heat, to win the 2022 Rip Curl Portugal Pro. Also used by Carissa Moore and Kolohe Andino at the 2021 Tokyo Olympics, the SubDriver2.0-Thumb has become a staple in all our Jr-Pro, WQS and Challenger Series surfers, as well.
Limited quantities in both standard and "Team" sizes.
About the exclusive BlackDart fabric: All of the carbon fibers run uni-directional (only nose to tail), with S- glass fibers running cross wise, rail to rail. Unlike traditional, bi-directional, carbon weaves, this material is far less stiff, much more forgiving, and even less prone to snapping and buckling than boards built with traditional, bi-directional, Carbon fiber fabrics. The boards still maintain the quick reacting, fast twitch memory benefits of carbon fiber, without the issues associated with bi-directional carbon weaves.
WARNING: Carbon Fiber surfboards can easily get Hot! They're dark…and like all things dark they soak sun and heat up. The DoubleDart constructed surfboards are made with lightweight EPS foam and a Carbon Fiber shell.
DoubleDart boards are Formula-1 of surfboard construction. Treat them that way. Do not leave them in your car when shopping. Do not leave them in direct sunlight, while bronzing on the beach. They will get hot, and it is possible for them to overheat and bubble up. Protect and take proper care of your investment. We recommend keeping these boards safe in a heat reflective day bag. Most accessories companies have these available and most surf shops. Take the bag all the way to the beach if you plan to hang out in the sun, before or after surfing. If the boards do get dinged, let them dry out and fix them properly. With proper care and a little love, these boards will take the day-to-day bumps and bruises very well, remain light and extremely lively on the waves and provide hundreds of days of surfing enjoyment.
STOCK DIMS
| | | | |
| --- | --- | --- | --- |
| 5'6 | 18.50 | 2.32 | 25.00 |
| 5'7 | 18.63 | 2.36 | 26.00 |
| 5'8 | 19.00 | 2.38 | 27.00 |
| 5'9 | 19.25 | 2.38 | 28.00 |
| 5'10 | 19.50 | 2.43 | 29.25 |
| 5'11 | 19.75 | 2.46 | 30.50 |
| 6'0 | 20.00 | 2.50 | 31.75 |
| 6'1 | 20.25 | 2.53 | 33.00 |
| 6'2 | 20.50 | 2.60 | 34.50 |
| 6'3 | 20.63 | 2.63 | 35.63 |
| 6'4 | 20.75 | 2.65 | 36.75 |
TEAM EXACT DIMS
| | | | | |
| --- | --- | --- | --- | --- |
| 5'7 | | 2.30 | 25.25 | Mason Ho |
| 5'8 | 19.00 | 2.38 | 27.00 | Carissa Moore |
| 5'9 | 19.25 | 2.38 | 28.00 | Eugene |
| 5'9 | 19.75 | 2.50 | 30.00 | KA |
| 5'10 | 19.13 | 2.40 | 28.25 | Griffin |
| 5'10 | 19.38 | 2.46 | 29.50 | Yago |